Work Planned or in Progress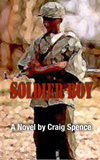 Soldier Boy (Completed Draft)
The sequel to Josh & the Magic Vial explores the horrific abuse experienced by child soldiers. Josh, Millie and Ian are up against Sirus Blackstone once again. Released from Desolation Isle, where he had been imprisoned in Josh & the Magic Vial Blackstone concocts a scheme to recruite child soldiers for Prince Vortigen. His 'candidates' will repopulate Syde, which lost one-third of its citizens in the Sydean Rebellion led by Josh. Blackstone also makes plans to capture Millie and defeat Josh by destroying the headquarters of ASTRAL in Vancouver, British Columbia.
---
THE +15 TRILOGY – A genealogy synced with the end times of the Industrial Revolution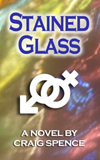 Stained Glass (Competed Draft)
Kyle Welland has been asked by his mother to complete the unfinished memoir of his great-great-grandparents Anna Armstrong and Christopher Newman. He sets about reconstructing their stories based on a collection of letters contained in an old tobacco tin. Anna, he discovers, had been a prostitute in the Cariboo Gold Rush town of Barkerville; Christopher, an Anglican missionary priest, immersed in a controversy over the installation of a stained glass window at Barkerville's St. Saviour's Anglican Church. The project, it turns out, had been financed by Anna's employer Madam Blavinsky, owner of the town's most 'luxurious' brothel. The more upstanding members of the congregation were not amused.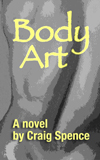 Body Art (Concept)
Paul Welland finds himself leading a double-life, commuting between the executive suite of a major oil patch player in Calgary, Alberta, and the funky domain of a radical environmental group in Vancouver, British Columbia. Hired by PenUltimate Energy as a Communication's Coordinator, Paul soon finds out his real job is to 'infiltrate' the environmental movement in whacky BC and look for 'structural weaknesses' that can be 'exploited' as part of the company's cheery ad campaigns. He discovers his own weakness is a body artist named Samantha Cavendish, who he falls holistically – and hopelessly – in love with. The only thing Paul can do to keep his worlds intact is lie, and justify his lying with more lies as the truth threatens both ways.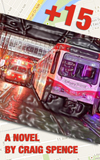 The +15 Prophecy (Concept)
In post apocalyptic Calgary the most affluent citizens and those who provide services for them, live in a totally secure, hermetically sealed environment of skyscrapers connected by above ground walkways and heavily armed trains. Outside this protected zone life is 'nasty, brutish and short', humanity reduced to paleolithic forms of subsistence on a diseased and depleted landscape. Can the civilized elite hold the barbarians at bay forever? Does the 'outworld' have something the cocooned nobility of the +15 lacks? Those are the questions +15 will explore. See Blog entries tagged Plus 15
---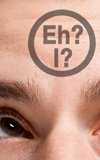 Eh? I? (Work in Progress)
A speculative novel that will puncture the boundaries between mental illness, love, power-politics and collective dystopia, with Artificial Intelligence as the penetrating metaphor. A young man, who has renamed himself Robi, struggles with the notion of himself as a non-being, conjured into existence through a tormenting AI logic. His would-be rescuer, Monica, a psychology graduate with empathic ideas about the boundaries between what is real and what is not, get's drawn into Robi's surreal 'negative fantasies' as she tries to save him from himself. Conundrum, sliding into comic-tragedy ensues. See Blog entries tagged Eh? I?
---
COLLECTIONS – Short stories that explore character, theme and place.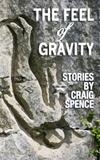 The Feel of Gravity (Work in Progress)
A collection of short stories that explores forces physical, emotional, intellectual, and spiritual from the perspective of men in the 21st Century. Feminism, the dissolution of colonialism and the reorientation of spirituality have been defining forces in North America for at least two generations, and will continue to be drivers in the coming decades. Adjusting and adapting to these and other new realities will be undercurrents running through The Feel of Gravity's vignettes.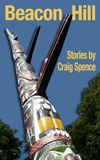 Beacon Hill (Work in Progress)
Beacon Hill Park, which stretches from The Strait of Juan de Fuca north to Southgate Street, and from Cook Street, west to Douglas, is – viewed from one perspective – 75 hectares of waterfront, Garry Oak Meadows, playgrounds and sports fields, located near the heart of a small North American city. But if you add dimensions of time, culture, social status, age, species, season, and numerous other 'slices', Beacon Hill becomes the setting for a panoply of stories well worth the telling.
---
IN LIMBO – Projects I really like, but don't know I can finish.
The Cosmic Chicken (Work on Hold)
A work of 'dynamic speculative fiction', The Cosmic Chicken is being written in 'real time' online (presently the novel has been set aside as I complete other projects). The middle-class world of Rich Mather, an elementary school principal, disintegrates as he and his wife Kally struggle with emotional implosion caused by the abduction of their 18 month old son Elgar. Rich's bizarre quest sees him reincarnated as a rooster named Cosima on the planet Gallus. Will he discover something of the truth behind Elgar's abduction in the Gallutian dimension? Or is Rich nudging toward certifiable? The Cosmic Chicken explores a North American family's response to the kinds of harsh realities faced by people on other continents (and in other neighbourhoods) every day.